A Dangerous Path is the 5th installation in the original series of Warriors. It takes place in fall, and Fireheart and Brambleclaw are on the cover, in the middle of a ThunderClan-RiverClan battle. It focuses on Tigerstar unleashing a pack of dogs into the forest, and Fireheart must find a way to get rid of the pack before the Clans are destroyed.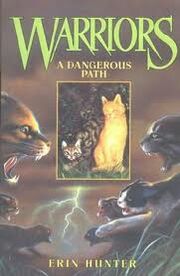 Pages in category "A Dangerous Path"
This category contains only the following page.