Rising Storm is the fourth book in the original series of Warriors. It has Fireheart and Mousefur on the cover, stalking through grass. Fireheart, the warrior cat, cat, faces many challenges in his new role of ThunderClan deputy as his apprentice, Cloudpaw, resists following the warrior code, Bluestar weakens, and Tigerclaw continues to haunt the forest seeking revenge. In the hardback edition, Firestar is seen training Cloudpaw.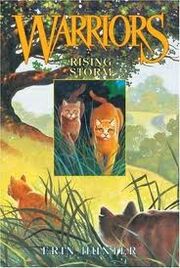 Pages in category "Rising Storm"
This category contains only the following page.
Ad blocker interference detected!
Wikia is a free-to-use site that makes money from advertising. We have a modified experience for viewers using ad blockers

Wikia is not accessible if you've made further modifications. Remove the custom ad blocker rule(s) and the page will load as expected.